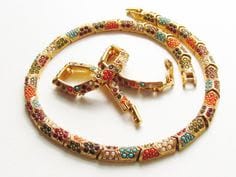 D'Orlan Jewellery Ltd. was founded in Toronto, Canada by Maurice Bradden in 1957. Bradden previously trained under the French jeweller, Marcel Boucher who established the Marcel Boucher & Cie Company, in New York City in 1937.
Mr. Bradden after moving to Toronto, Canada established his own company producing his own brands of jewellery along with producing costume jewellery exclusively for the Boucher Company. Marcel Boucher died in 1966.
In 1979, Marcel Boucher's company was sold to D'Orlan Industries of Toronto, Canada. The workmanship and details on the jewellery being produced from the Boucher moulds by D'Orlan is of high quality.
In 1984, D'Orlan Jewellers Ltd., formed a partnership with the Nina Ricci enterprises of Paris, France (known throughout the world in the fashion industry for French designs and French luxury goods including perfumes).
Together the companies developed a high standard plating process that is highly regarded to include a 22 karat triple-plated finish over a pewter base metal that ensures a consistency of colour. This process has also been incorporated into the Nina Ricci jewellery.
D'Orlan and Nina Ricci costume and precious jewellery is sold throughout the world in Nina Ricci Stores, in high end department stores and boutiques.