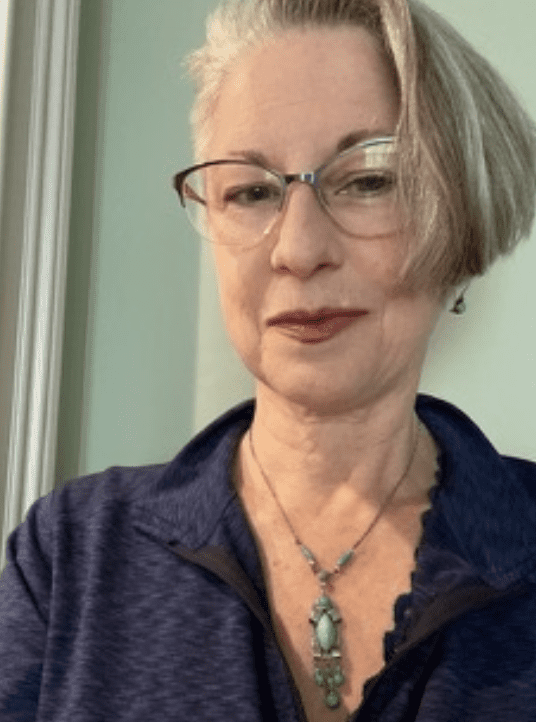 Robin from the USA wearing her Jakob Bengel necklace
Robin lives in the USA and is a great admirer of the jewellery of Jakob Bengel. JB was a great innovator in his designs, manufacture and in the materials used during the Art Deco period. As the materials were comparatively inexpensive at this time, the greater value is provided by the artistic virtuosity of this designer in the form of his technical skill, inventiveness and intellectual ingenuity.
Robin is here looking fabulous wearing a glass and hammered finish chrome necklace by Jakob Bengel, one of a number of pieces purchased from Jewels Past. This brilliant necklace is timeless and much sought after.
Robin says 'What a BEAUTIFUL necklace and great customer service. Mags was absolutely delightful to work with! The necklace was even more dainty and lovely in person and I am thrilled to wear it. It is now one of my jewelry favourites! Cannot say enough positive things about the whole experience. I will be back to buy quality jewellery from Mags.'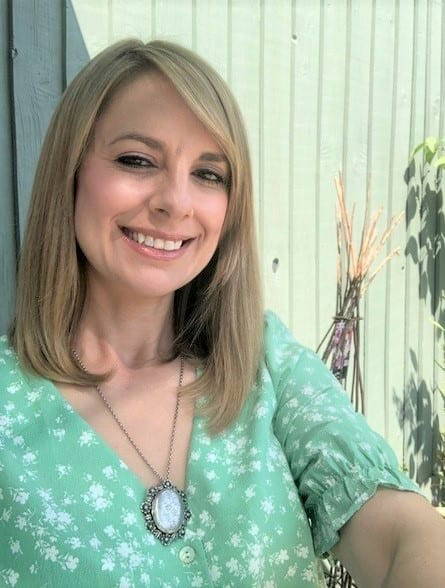 Leahann who attended the Peterborough Festival of Antiques Fair
At the Peterborough Festival of Antiques I met Leahann who was looking to buy something memorable and special with her birthday money.
She was instantly attracted to a silver locket of ornate design and having fallen in love with it she made the purchase. The heavy gauge silver locket had a border of flowers and deeply engraved flowers and foliage on the front making it very ornate and a standout piece of jewellery which could be worn as a pendant or a brooch.
Leahann, here looking fabulous wearing her locket as a pendant. Lockets are personal and symbolic and here appropriately worn by Leahann close to her heart. They are timeless and romantic and Leahann will no doubt place her treasured and precious memories within it.
Of her experience Leahann says: 'Whilst visiting the Peterborough Festival of Antiques with my friend, we stumbled across a very welcoming stall called 'Jewels Past.' The company specialised in lovely vintage jewellery and costume wear. For about a year now, I'd rather fancied treating myself to a silver vintage locket. I've always loved lockets and thought it would be something special and different to wear on my days off or for special occasions (which are far and few as I'm a busy beautician in a uniform most days, where I am forbidden to wearing jewellery for health and safety reasons.) Maggie the founder of 'Jewels Past' approached myself and my friend with a lovely welcome! We began chatting and looking into her lovely glass cabinets at all of the old vintage treasures.
She had some wonderful pieces and to my joy, a lovely unique vintage silver locket from 1969. Maggie was very patient and answered any of my questions about the locket.
She could tell me the date of the locket, where it was made and demonstrated how to find the information out on the locket itself.
I decided to have a think about it and wandered on around the showground.
On my wandering, I realised that I would not see this locket again if I didn't purchase it now and how upset I'd be once I'd get home to be without it. It was so different and beautifully unique that I went back to Maggie quickly hoping it hadn't been sold!
Thankfully it hadn't. Maggie was so kind to let me try it on and look in their mirror.
The locket was from then on "mine" as I knew I loved it! It helped by seeing it visually on me. Maggie advised me on how to care for the locket and clean it as I was concerned about perfumes and body lotions ruining it. It was boxed and bagged up beautifully for me and I was so happy with my purchase!  I will never find one like it.
It feels perfect for me and it's such a treat to be the new owner of a lovely item which probably has lots of lovely stories behind it from its previous owners. I'm so pleased I met and spoke to Maggie that day as I am now the proud owner of that lovely piece of jewellery. Thank you Maggie 💛'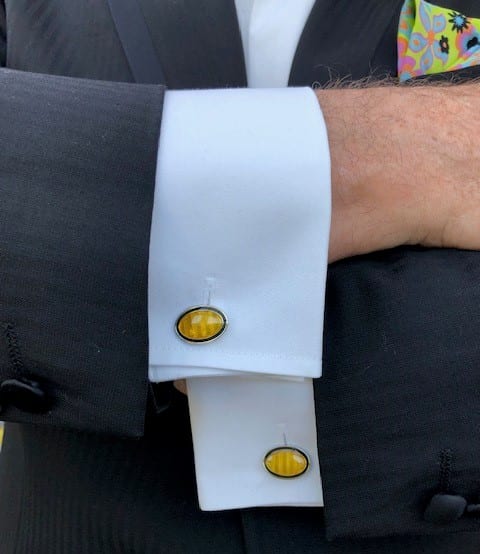 Dunhill Cufflinks
A superb pair of mid-century Dunhill enamel cufflinks by this iconic jeweller. Engine turned guilloche yellow enamel cufflinks which can be worn for formal occasions or casual.
Peter commented 'It is good to find high-class men's jewellery amongst the superb woman's jewellery being offered by Jewels Past.'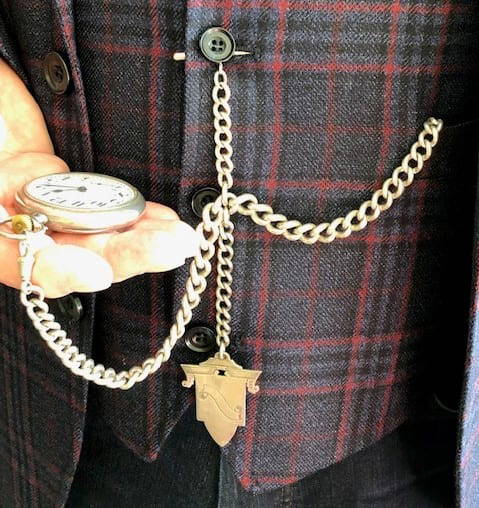 Silver Albert Watch Chain
A silver double Albert watch chain and fob dating from the 1920s. A heavy, unworn chain with a shield fob.
Peter commented 'It is good to find a good quality, heavy silver chain for my pocket watches and selection of fobs. The watch and chain allows one to bring back fashion and trends from a bye-gone era to good effect. Another gem from The Man's Shop at Jewels Past.'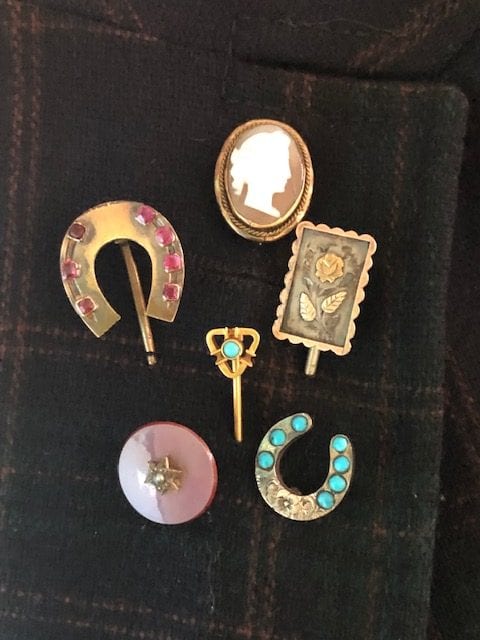 Stick Pins
A selection of stick pins purchased by a customer as a way of enhancing a jacket. Worn singly, of course, but my customer couldn't resist showing off a small part of his collection!
Stick pins can be ornamental or can indicate the wearer's affiliation with an organisation or cause. Commonly in precious metal adorned with precious stones or enamel.